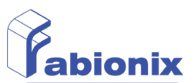 Fabionix (India) Pvt. Ltd., an ISO 9001: 2000 company was established in 1993. Fabionix manufactures high quality Sheet Metal Enclosures for Electrical, Electronics and Automation Industries. It has consistently grown 25% every year, owing to its high quality standards and thorough professionalism.

Fabionix is managed by a team of technically competent, experienced and committed personnel backed by state-of-art technology, high quality standards and excellent manufacturing facility.

We have mastered ourselves in sheet metal manufacturing technology and excelled ourselves in design, manufacturing, plating, powder coating and other related technologies.
E-mail:
marketing@fabionix.com
Phone:
+91. 80.
2728 7309
Fax :
+91. 80.
2728 7315